Jason McClellan
UFO Researcher and Journalist
Jason McClellan is an author, journalist, podcaster, and explorer of the strange who spent more than six years as a full-time UFO researcher and journalist.
As a founding member of UFO media company Open Minds, Jason served as a writer and editor for the now defunct Open Minds Magazine—an internationally distributed print magazine focused on UFOs and extraterrestrials. He was also an organizer and the technical producer of the International UFO Congress for five years—an event recognized by the 2015 Guinness World Records as the largest annual UFO conference in the world.
He has appeared on Geek & Sundry, Syfy, NatGeo, and he co-starred on History's Hangar 1: The UFO Files. Jason's articles have been published by several media outlets including Geek Magazine, Tech Times, and Tom DeLonge's To The Stars.
In 2013, Jason launched Rogue Planet, a multimedia company primarily focused on
strange phenomena/mysteries of the universe. Through this company, he produces and
hosts UNKNOWN—a UFO podcast, as well as other shows.
Jason's book, Only Weirdos See UFOs: An Introduction to the Public's Misperception of Unidentified Aerial Phenomena and Extraterrestrial Life was published in 2016.
Guest Appearances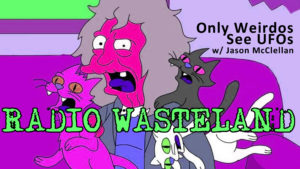 Only Weirdos See UFOs w/ Jason McClellan