Steve Ward
Researcher
Steve Ward has been fascinated by the unexplained for over half a century.
Not an experiencer himself, he was introduced to UFOs & the paranormal by the books of Frank Edwards. Later there would be 2 events that would have a major influence on Steve that would determine his future path.
Growing up in Michigan, the March 1966 UFO flap occurred virtually in his backyard.
The best however, was yet to come. The following November a winged humanoid chased 2 couples down a lonely country road, near Point Pleasant, West Virginia. The story hit the wire services & the legend of the Mothman was born.
In a way, Steve would be chasing the Mothman the rest of his life. Influenced early on by the works of John Keel & Jaques Vallee, his views on UFOs & became unconventional & moved more toward a paranormal explanation.
In 1973 he spent 4 months in Europe & stood at the foot of Stonehenge & on the shores of Loch Ness.
In 1976 he attended the MUFON Symposium in Ann Arbor, Michigan & met such major figures as Ray Stanford & Dr. J. Allen Hynek.
He was also able to interview Gray Barker of Saucerian Publications.
In 1977 he made his first visit to Point Pleasant after reading "The Mothman Prophecies" by John Keel.
In 1980 he joined the Navy & served aboard the USS Billfish. a nuclear fast attack submarine.
Since 2006 he has been involved with the Mothman Festival, both behind the scenes & as a tour guide in the dreaded TNT area where the Mothman was first seen.
He spoke at the 2017 Mothman Festival on the subject of "High Strangeness."
Guest Appearances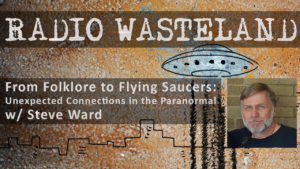 From Folklore to Flying Saucers: Unexpected Connections in the Paranormal w/ Steve Ward